Case Study: Hockey Canada

Download full case study [1MB]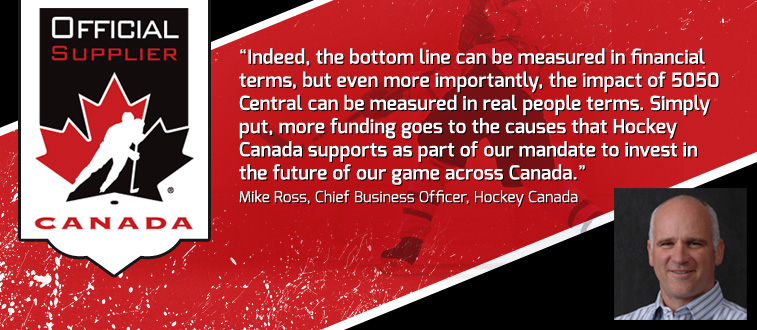 A Story of Success: Hockey Canada realized a 466% increase in average raffle sales!
Key Results
466% increase in average per game raffle sales
Massive record pot of $299,400 at a single WJC game
Over 300% increase in total raffle sales versus old paper raffle method
Greater accountability, transparency and faster reconciliation
$1.6 million in funds raised from raffle operations at WJC 2012 to help support hockey
The Situation
A wildly successful trial run at the 2010 and 2012 World Junior Championship lead to Hockey Canada naming 5050 Central as its Official 50/50 Raffle Company.
In 2009, the World Junior Championship (WJC), hosted by Hockey Canada, ran their usual raffle using traditional paper raffle tickets. The biggest raffle pot achieved in a single day across multiple games at the 2009 WJC was $99,426. A year later in 2010, Hockey Canada test drove 5050 Central's electronic 50/50 raffle system. Unlike the old paper raffle system, this new computerized and automated raffle system displayed to fans at the games a live tally of the pot as well as the speed at which it was growing.
The psychological aspect of seeing the pot grow quickly in real-time immediately began to take its effect. The biggest raffle pot achieved in a single day across only two games was $405,626, an increase of 308% over 2009's largest day - including an astounding raffle pot of $299,400 in a single game (United States 6 - Canada 5 (OT)).
Proving that 2010 was no fluke, the 2012 World Junior Championship in Alberta saw 5050 Central's automated 50/50 system fuel another monster pot: $257,210 in a single game.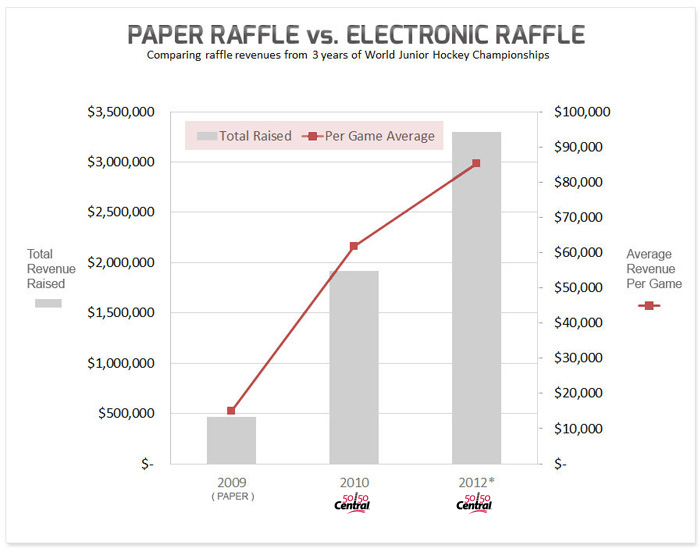 Download the full case study[1MB]