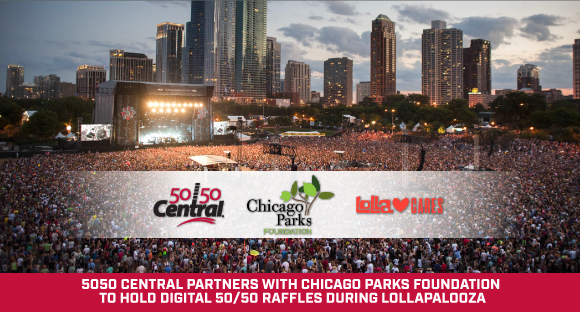 Toronto, ON – July 31, 2018: 5050 Central Ltd. ("the Company"), a wholly-owned subsidiary of Gaming Nation Inc., announced today that the Company will partner with the Chicago Parks Foundation to run digital 50/50 raffles during Lollapalooza.
Lollapalooza is a popular music festival dating back to 1991, showcasing many types of musical artists and various prevalent acts in today's industry. This year's festival will be held August 2-5 at Grant Park in Chicago, Illinois with over 180 bands performing, including The Weeknd, Bruno Mars, Jack White, and the Arctic Monkeys.
Proceeds from the raffles held during the festival will benefit the Chicago Parks Foundation, whose mission is to build a stronger community dedicated to supporting and conserving Chicago's city parks.
"The Chicago Parks Foundation is that giving connection to the parks," said Willa Lang, Executive Director of the Chicago Parks Foundation. "The 50/50 raffle at Lollapalooza supports the parks in an accessible, easy and fun way. And besides… Without the parks… Where would you Lolla?"
"Lollapalooza, a 2017 Illinois Sustainability Award recipient, has implemented a series of initiatives to spread the environmental message and lessen the festival's overall environmental impact," said Farid Mosher, Sr. Guest Services Manager with C3 Presents. "This includes water bottle avoidance, waste diversion from the landfill and offsetting the CO2 created by production emissions. Each year these initiatives are evaluated and innovative partnerships like the ones planned with 5050 Central and the Chicago Parks Foundation help provide the festival with opportunities for improvements and expansion."
"As we continue to venture out and provide our fundraising platform's services to many popular concerts, we are thrilled to be adding Lollapalooza to the mix," said Keshav Sharma, Business Development Executive with 5050 Central. "The raffles will add extra excitement to an already action-packed festival, which will in-turn provide the Chicago Parks Foundation with increased fundraising revenue."
How to purchase tickets
50/50 raffle tickets will be available for purchase on-site during the festival at three locations in the park, as well as online for anyone in the state of Illinois.
Purchasing locations at the Festival:
At the Guest Services Booth near the north entrance on Columbus Drive between E. Monroe Street and E. Jackson Drive
At the Guest Services Booth on the corner of Columbus Drive and E. Balbo Avenue
At the Chicago Parks Foundation Booth near the main entrance on Congress Parkway S.
Purchasing Online:
Tickets are now available for purchase online. To purchase 50/50 tickets online, head to the online purchasing portal at https://lollapaloozaraffle.5050central.com/Home
XXX
ABOUT GAMING NATION INC.:
Gaming Nation Inc. provides technology and information platforms to the sports and entertainment industry. The company's platforms include 5050 Central, a digital real-time raffle system and BD Sport Group, providing in-stadium betting in the UK football market.

For more information visit, www.gamingnationinc.com
Connect with Gaming Nation Inc. on Facebook and Twitter
ABOUT 5050 CENTRAL LTD.:
5050 Central Ltd., a wholly owned subsidiary of Gaming Nation Inc., is a digital raffle software system that drives consumer participation in raffle events while providing accountability to the raffle process. The 5050 Central system digitally captures every transaction while providing updated real-time raffle information to display devices located throughout the venue. Tickets are sold to fans through tablet kiosks and mobile hand-held devices, creating an effortless data collection system providing faster sales transactions, longer selling periods, accountability and substantial increases in average raffle proceeds. 5050 Central boasts some of sports' most iconic brands as clients, with partners across the sports landscape including MLB, NFL, NHL, NBA, MLS, NLL, CFL & EFL as well as several NASCAR events, PGA tournaments and NCAA institutions.
For more information visit, www.5050central.com