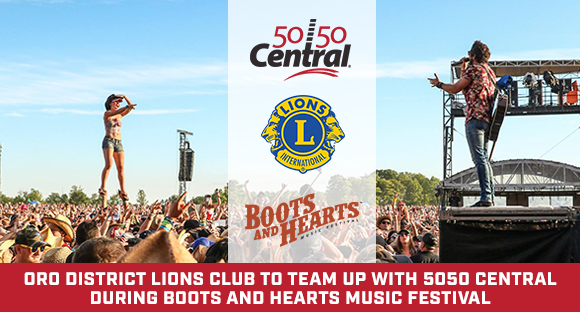 Toronto, ON – May 30, 2018: 5050 Central Ltd. ("the Company"), a wholly-owned subsidiary of Gaming Nation Inc., announced today that the Company has reached an agreement with the Oro District Lions Club to run 50/50 raffles during the Boots & Hearts Music Festival in Oro-Medonte, Ontario.
Boots and Hearts, taking place August 9-12, 2018, is a country music and camping festival produced by Republic Live Inc. The event has grown to become Canada's largest country music festival since its inception in 2012, having seen attendance grow as high as 45,000 fans per day. This year's lineup includes acts such as Florida Georgia Line, Alan Jackson and Thomas Rhett.
5050 Central's digital fundraising platform will be utilized to run a festival-long 50/50 raffle. Half of the proceeds will go to the lucky winner of the raffle, while the other half will benefit three charitable projects supported by the Oro District Lions Club.
The Club will be donating to: Lions Foundation Canada (Oakville dog guide school), Lions Camp Dorset (for cottage country kidney dialysis), and the Lighthouse Soup Kitchen and Shelter in Orillia (for their daily programs to assist local homeless people).
Lion President Bob Murray and the 43 members of the service club are very appreciative of the support they have received in the forty-five years that the club has been in Oro-Medonte. This new venture promises to greatly enhance their ability to fulfill the motto of Lions Clubs around the world – "WE SERVE".
"As 5050 Central continues to add to their expanding lineup of music festivals, we are very excited to be apart of Boots and Hearts," said Keshav Sharma, Business Development Executive with 5050 Central. "We are confident the Oro District Lions Club will greatly benefit from this new source of fundraising revenue, while the raffles will deliver added enthusiasm to the Festival."
XXX
ABOUT GAMING NATION INC.:
Gaming Nation Inc. provides technology and information platforms to the sports and entertainment industry. The company's platforms include 5050 Central, an electronic real-time raffle system, BD Sport Group, providing in-stadium betting in the UK football market, and sports information websites Fantasy Guru, FantasyGuruElite and Pick Nation.

For more information visit, www.gamingnationinc.com
Contact & investor inquiries: Scott Secord, President and CEO 416‐479‐3873
ssecord@gamingnationinc.com
Connect with Gaming Nation Inc. on Facebook and Twitter
ABOUT 5050 CENTRAL LTD.:
5050 Central Ltd., a wholly owned subsidiary of Gaming Nation Inc., is a digital raffle software system that drives consumer participation in raffle events while providing accountability to the raffle process. The 5050 Central system digitally captures every transaction while providing updated real-time raffle information to display devices located throughout the venue. Tickets are sold to fans through tablet kiosks and mobile hand-held devices, creating an effortless data collection system providing faster sales transaction, longer selling periods, accountability and substantial increases in average raffle proceeds. 5050 Central boasts some of sports' most iconic brands as clients, with partners across the sports landscape including MLB, NFL, NHL, NBA, MLS, NLL, CFL & EFL as well as several NASCAR events, PGA tournaments and NCAA institutions.
For more information visit, www.5050central.com