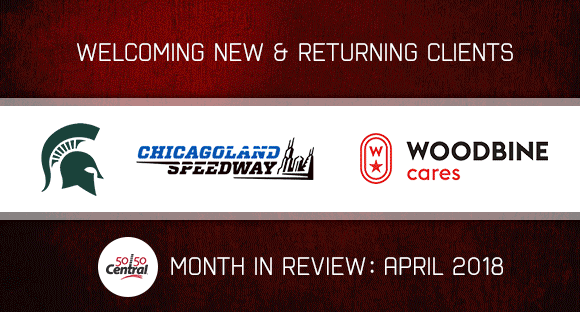 April 2018
Welcome New Clients!
5050 Central is pleased to welcome some new team members who are now or will soon be using our platform as a new source of fundraising revenue for their organizations.
Chicagoland Speedway
Woodbine Entertainment Group
Columbia Fireflies
Great Falls Voyageurs
Welcome Back!
5050 Central is thrilled to welcome back some team members who will continue assisting their charitable endeavours by fundraising with us.
Michigan State University
Buffalo Bisons
Medicine Hat Rodeo
Sacramento Rivercats
Myrtle Beach Pelicans
Ponoka Stampede
Syracuse Chiefs
Atlanticade

Working with 5050 Central can add a new & exciting source if revenue, delivering an extra element of enthusiasm and participation to your events. If you would like to start or continue fundraising like these other organizations, please contact us.