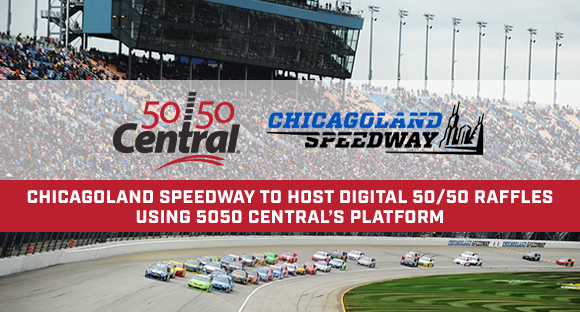 Toronto, ON – April 24, 2018: 5050 Central Ltd. ("the Company"), a wholly-owned subsidiary of Gaming Nation Inc., is extremely pleased to announce that the Company has reached an agreement with the NASCAR Foundation's Donor Advised Fund Racing Advocates for Community Enrichment (R.A.C.E.), which is operated by Chicagoland Speedway, to implement digital 50/50 raffles using 5050 Central's platform.
NASCAR fans will have the opportunity to purchase 50/50 raffle tickets at the speedway in Joliet, Illinois during the following events:
June 29, 2018 – NASCAR Camping World Truck Series Overton's 225
June 30, 2018 – NASCAR Xfinity Series Overton's 300
July 1, 2018 – Monster Energy NASCAR Cup Series Overton's 400
Fans from Illinois watching the races at home or on the go won't miss out as they will have to ability to purchase tickets online through 5050 Central's online raffle platform.
Proceeds from each raffle held at Chicagoland Speedway will benefit R.A.C.E. which aims to improve the quality of life for the greater Chicagoland area while focusing on causes centered on youth, safe driving and the military.
The agreement sees the expansion of the Company's NASCAR 50/50 footprint which includes multiple speedways such as Watkins Glen International, Pocono International Raceway, Dover International Speedway and Las Vegas Motor Speedway.
Scott Secord, President/CEO of Gaming Nation stated, "We are very pleased to welcome R.A.C.E. and Chicagoland Speedway to 5050 Central. Our industry-leading digital raffling platform will greatly assist and enhance the fundraising efforts for R.A.C.E while providing NASCAR fans with added excitement during each event at Chicagoland Speedway."
XXX
ABOUT GAMING NATION INC.:
Gaming Nation Inc. provides technology and information platforms to the sports and entertainment industry. The company's platforms include 5050 Central, an electronic real-time raffle system, BD Sport Group, providing in-stadium betting in the UK football market, and sports information websites Fantasy Guru, FantasyGuruElite and Pick Nation.

For more information visit, www.gamingnationinc.com
Contact & investor inquiries: Scott Secord, President and CEO 416‐479‐3873
ssecord@gamingnationinc.com
Connect with Gaming Nation Inc. on Facebook and Twitter
ABOUT 5050 CENTRAL LTD.:
5050 Central Ltd., a wholly owned subsidiary of Gaming Nation Inc., is a digital raffle software system that drives consumer participation in raffle events while providing accountability to the raffle process. The 5050 Central system digitally captures every transaction while providing updated real-time raffle information to display devices located throughout the venue. Tickets are sold to fans through tablet kiosks and mobile hand-held devices, creating an effortless data collection system providing faster sales transaction, longer selling periods, accountability and substantial increases in average raffle proceeds. 5050 Central boasts some of sports' most iconic brands as clients, with partners across the sports landscape including MLB, NFL, NHL, NBA, MLS, NLL, CFL & EFL as well as several NASCAR events, PGA tournaments and NCAA institutions.
For more information visit, www.5050central.com
Connect with 5050 Central on LinkedIn, Facebook and Twitter
Chicagoland Speedway & Route 66 Raceway

Chicagoland Speedway is a 1.5-mile, paved oval race track located in Joliet, Ill. The track has hosted racing events of the major U.S. racing series, and currently conducts races in all three NASCAR national series, including the NASCAR Camping World Truck Series, the NASCAR XFINITY Series, and the Monster Energy NASCAR Cup Series. Along with Route 66 Raceway, a multimillion-dollar complex that includes a ¼ mile stadium-style drag strip and a ½ mile dirt oval track, Chicagoland Speedway is wholly-owned by International Speedway Corporation (ISC), a major promoter of motorsports activities. ISC owns and/or operates 13 of the nation's major racing venues, including Daytona International Speedway. For more information on Chicagoland Speedway, visit ChicagolandSpeedway.com.
MEDIA CONTACT:
Chicagoland Speedway & Route 66 Raceway
Denny Hartwig: (815) 722-4180
dhartwig@chicagolandspeedway.com
Sarah Palya: (815) 722-4166