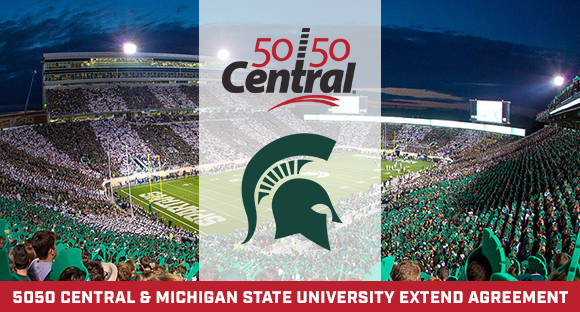 Toronto, ON – April 18, 2018: 5050 Central Ltd. ("the Company"), a wholly-owned subsidiary of Gaming Nation Inc., is extremely pleased to announce that the Company has extended their agreement with Michigan State University (MSU) by agreeing to a multi-year extension of the current agreement.
MSU has used 5050 Central's digital platform since 2013 and have seen their 50/50 raffle proceeds increase each year since switching from traditional paper tickets. Implementing the system at multiple sporting events including football, basketball and hockey, MSU reached a record of $671,415 in total raffle revenue this past athletic season, increasing from the previous season by 17%. Half of the raffle proceeds benefit MSU's athletic department.
Partnered with over 30 NCAA schools, 5050 Central's platform is an ideal fundraising tool for the NCAA market, as it can scale to a Division I football stadium or adapt to a smaller multi-sport Division II/III college.
XXX
ABOUT GAMING NATION INC.:
Gaming Nation Inc. provides technology and information platforms to the sports and entertainment industry. The company's platforms include 5050 Central, an electronic real-time raffle system, BD Sport Group, providing in-stadium betting in the UK football market, and sports information websites Fantasy Guru, FantasyGuruElite and Pick Nation.

For more information visit, www.gamingnationinc.com
Contact & investor inquiries: Scott Secord, President and CEO 416‐479‐3873
ssecord@gamingnationinc.com
Connect with Gaming Nation Inc. on Facebook and Twitter
ABOUT 5050 CENTRAL LTD.:
5050 Central Ltd., a wholly owned subsidiary of Gaming Nation Inc., is a digital raffle software system that drives consumer participation in raffle events while providing accountability to the raffle process. The 5050 Central system digitally captures every transaction while providing updated real-time raffle information to display devices located throughout the venue. Tickets are sold to fans through tablet kiosks and mobile hand-held devices, creating an effortless data collection system providing faster sales transaction, longer selling periods, accountability and substantial increases in average raffle proceeds. 5050 Central boasts some of sports' most iconic brands as clients, with partners across the sports landscape including MLB, NFL, NHL, NBA, MLS, NLL, CFL & EFL as well as several NASCAR events, PGA tournaments and NCAA institutions.
For more information visit, www.5050central.com